Miracle Color Changing FOUNDATION SPF 15 30ML
---
SAY GOODBYE TO ALWAYS GUESSING YOUR MAKEUP SHADE!


Do you also have trouble finding the right color foundation, because all shades are either too light or too dark?
Do you want a foundation that is EASY, BEAUTIFUL and PROTECTIVE?
Then the TLM Foundation is exactly what you need!
With this protective Foundation, you will cover any skin problems without clogging your pores.
The innovative formula of the TLM Foundation ensures that the color adapts fully to your skin tone and that you no longer need a moisturizer or sunscreen.
If you don't use the right color foundation, you have the chance that your face will look unnatural.
In addition, the TLM Foundation ensures that your makeup will be done quickly and that your skin looks amazing!
End the eternal search for the perfect foundation!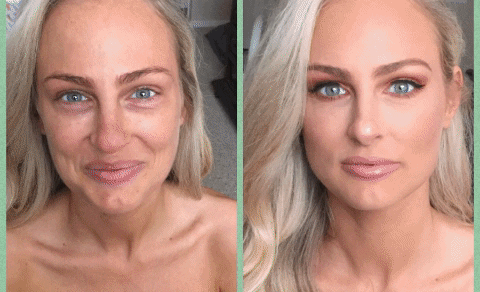 The exclusive shade-sensing beads are activated by pressure upon application. So, as the makeup is thoroughly blended into your skin, it intuitively transforms to your skin tone for all day, giving a smoother, more flawless, natural finish with stay-true color. The creamy texture smooths seamlessly over the skin to even, conceal and disguise fine lines and wrinkles.
The foundation fully adapts to your skin color, this ensures a natural appearance.
It covers any skin problems without clogging your pores
You no longer need a moisturizer or SPF, because the foundation has a caring and hydrating effect that makes your skin flexible.
You no longer need sunscreen, because the foundation contains SPF. This shields your skin against harmful UVA and UVB rays.
You will cut your morning routine in half because the foundation is easy to apply and fully adapts to your skin color.
Hypoallergenic and suitable for sensitive skin and lasts up to 16 hours.
100% cruelty-free, never tested on animals.
Not sold in stores
WHAT PEOPLE ARE SAYING ABOUT PRETTY LITTLE WISH
"My wife actually had a great experience with the covers. For the price, I am surprised at the quality! I highly recommend this product if you are looking for a protective cover that looks amazing!"
⭐⭐⭐⭐⭐
"PLW was different I will buy in the future again. The cover is so soft and comfy. Took no time at all to put on. No instructions needed and it fits like a glove"
⭐⭐⭐⭐⭐
"This sofa cover is amazing. it looks fantastic! This made my living room look like I had done a make over. My neighbor was amazed - her first comment was WOW - now you don't need to buy a new recliner. This one is perfect for your Living Room!"
⭐⭐⭐⭐⭐
Pretty was Fast Shipping And Very Good Customer Service That Keeps You Up To Date With Your Order. I emailed them and got a response the same hour.
⭐⭐⭐⭐⭐
SATISFACTION GUARANTEE
We stand by our high-quality products and your satisfaction is guaranteed.
SECURE CHECKOUT
Pay with the world's most popular and secure payment methods.
GREAT VALUE
We offer competitive prices on all of our exclusive products.
FREE WORLDWIDE DELIVERY OVER $49!
We proudly offer Free Shipping on us when your order value is over $49. Handling time 1-3 business days. Estimated delivery between 5-10 business days.
PRETTY LITTLE WISH MADE WITH LOVE 🥇
It's our mission to redefine your living room, dining room, and bedroom by creating amazing covers at prices that don't break the bank. 🥇
Buy Now